City Display

City name.
Country name.
Time difference from current location (device time zone).
Date of the city.
The abbreviation name of the city's time zone and the time difference from GMT (Greenwich Mean Time).
*If the color is changed, it means that the city is on Daylight Saving Time.
Time of the city.
---
Time Bar
By scrolling of Time Bar, the time of all cities changes automatically.
-Upper direction : future
-Lower direction : past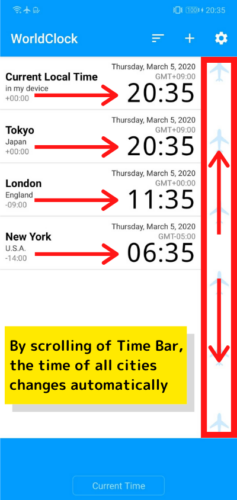 Come back to current time with Current Time Button.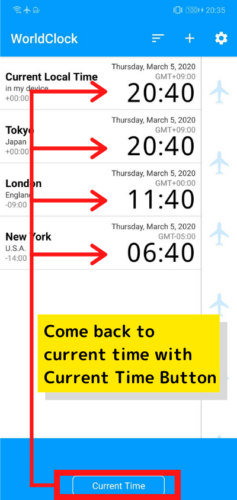 When you double-tap Time Bar, you can change the time by a unit for one hour.
The color of icons on Time Bar is clear when a unit of time is one hour.
If you double-tap a Time Bar once again, you return to a unit for one minute.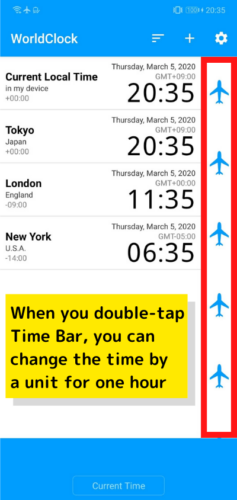 ---
Date and time designation
You can designate the date and time directly when you tap the area of each city.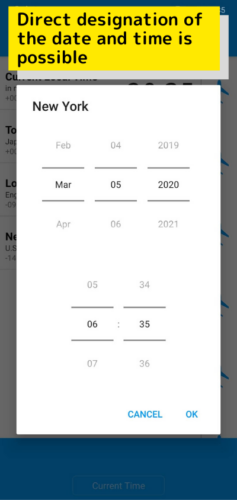 ---
Delete and reorder cities
Cities can be deleted or rearranged by tapping the "Edit" button in the upper left corner of the screen.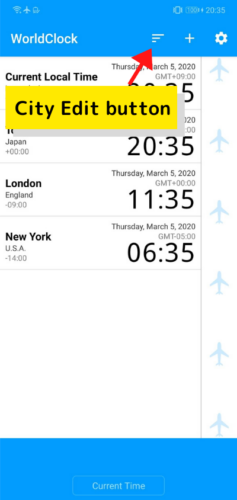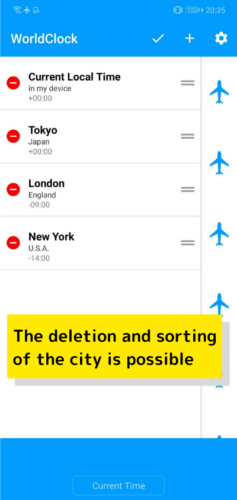 ---
Addition of the city
A city list is displayed when you tap "+(plus)" button of the screen top right corner.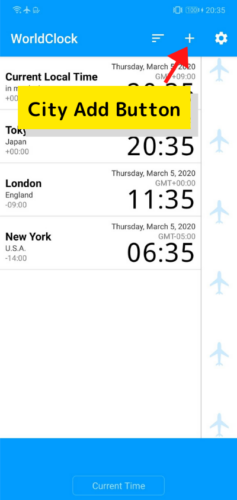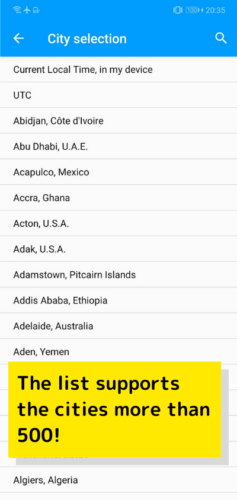 ---
FAQ
Q : Is it reflected automatically in daylight saving time?
A : Yes.
So, you don't need to do some special operations when the beginning or ending of daylight saving time.
Q : I found the wrong time. What should I do?
A : I'm sorry to trouble you, but please contact RandyApps.
Fundamentally, our "World Clock" app doesn't have any time difference data in it. "World Clock" inquires time difference to Android OS, so our app shows you the time which is based on the data of Android OS.
Therefore, if there are some wrong time, we need to find out if the cause is due to our bug or the data of Android OS.
Thank you for your kind cooperation.
For details, please see here.